General information on the corona situation in Cuba
entry
A negative PCR test in paper form from your home country must be presented when entering Cuba, which must not be older than 72 hours on arrival and must be issued by a certified laboratory. All travelers must undergo another mandatory PCR test at the airport upon arrival in Cuba. In addition, a declaration of health must be submitted at the airport. Travelers who enter for tourist purposes and who have a reservation in a licensed hotel are then obliged to stay at the hotel until they receive the negative test result. For travelers who do not intend to spend the night in a hotel that is intended for package tours, but would like to stay in a "casa particular" or private accommodation, the following provisions apply from February 6, 2021: Immediately after entry, the obligation in stay at the property until you get a negative test result. The test result should be available after a day or two.
After receiving a negative test result, you can continue your journey to other destinations in Cuba.
If the result is positive, hospitalization and isolation in a hospital or state hotel for at least eight days can be expected. The quarantine facilities only serve to ensure medical needs. Accompanying relatives of people who tested positive and negative themselves must stay in the booked accommodation until a second negative test result is available. The second test is carried out on the seventh day after entry. The test result is available on the eighth day at the earliest.
The Cuban authorities regularly adapt the entry requirements to the current epidemiological conditions. These can therefore be subject to changes at short notice.
Transit and onward travel
A transit through Cuba is possible within the framework of the current regulations and available flight connections. In particular, traveling with a rental car to various destinations, including crossing provinces, is easily possible with a negative test result.
Travel connections
The airports in all provinces (except Cayo Coco) are open for commercial, regular flights. There is currently only a direct flight connection from Germany to Varadero. Flights to Holguin will probably only be possible again from May 23, 2021, flights to Havana from May 22, 2021. It is advisable to inquire with the airlines about the status of the flight shortly before departure.
Restrictions in Cuba
Travel opportunities within Cuba may be restricted locally. The range of accommodation and tourist services continues to be limited. In the metropolitan region of Havana, pandemic measures are tightened. Restaurants are only allowed to serve or deliver food to take away. Bars, discos, cinemas, theaters, sports fields and other leisure facilities are closed. Local public transport is closed from 9 p.m. to 5 a.m. It is forbidden to stay in parks and other public places after 7 p.m. Travel between Havana and other parts of the country is not possible using public transport. Checks and restrictions at the city limits can also be expected in private vehicles. Excursions to Havana are not possible until further notice due to the increased number of infections.
What do I have to consider with regard to Corona?
Special rules of conduct and hygiene apply in all regions of Cuba. This currently includes the mask requirement in all public places and streets. Private accommodation must comply with special hygiene protocols, compliance is strictly controlled by the state. Bars and restaurants are currently closed to visitors inside. However, they offer food and drinks to go.
What should I do if I suspect a corona infection?
Cuba has a very good network of polyclinics. If you suspect a corona infection, visit the nearest polyclinic and get tested. There are also international clinics in almost all major tourist hotspots. Ask your hosts, they will be happy to help you.
Where can I have a corona test carried out for entry into another country?
According to the publication by Mintur.gob.cu, you can have a corona test for entry into third countries or your home country carried out in the following clinics:

Havanna
Contact person:: Xonia Beltrán Vivero
Address: Calle A No 306 entre 13 y 15 , Vedado, Plaza de la Revolución,
Phone: +53 7 8332020
E Mail: delegado.hab@mintur.gob.cu

Clínica Internacional Siboney
Address: Ave. 17 No. 20005 e/ 200 y 205, Playa, Havanna
Phone: +53 7 2711123 , +53 7 2714023

Clínica Internacional Camilo Cienfuegos
Address: Calle L No. 151 e/. Línea y 13, Havanna
Phone: +53 7 8333886

Instituto de Medicina Tropical "Pedro Kourí" IPK
Address: Avenida Novia del Mediodía, KM 6 1/2, La Lisa, Havanna
Phone: +53 7 202 0425, +53 7 255-3182

Matanzas/Varadero
Contact person:: Ivis Fernández Peña
Address: 1ra avenida, esquina calle 13,Varadero.
Phone: 45 612953, 45 667163
E Mail: delegado.mtz@mintur.gob.cu

Pinar del Río
Contact person:: José Antonio Aguilera Hernández
Address: Calle Maceo No.117 e/ Antonio Tarafa y Rafael Morales,Pinar del Río, Cuba
Phone: +5348 755467
E-Mail: delegado.pr@mintur.gob.cu

Isla de la Juventud
Contact person:: Lázaro Ernesto Guzmán Lastre
Address: Calle 24 esquina 47, Nueva Gerona, Isla de la Juventud
Phone: 4632-1920 , 4632-3820 und 4632-1287
E-Mail: delegado.isj@mintur.gob.cu

Cienfuegos
Contact person:: Jose Enrique González Garrido
Address: Calle 37 y 16. Punta Gorda. Cienfuegos
Phone: 43 551631 -43 551632
E-Mail: delegado.cfg@mintur.gob.cu

Sancti Spíritus/ Trinidad
Contact person:: Reiner Segundo Rendón Fernández
Address:Calle Gustavo Izquierdo #123 / Piro Guinart y Simón Bolívar, Trinidad SS
Phone: (53) 041-996338
E-Mail: delegado.sspp@mintur.gob.cu

Santa Clara
Contact person:: Regla Dayami Armenteros
Address: Maceo No. 453 e/ Caridad y Carretera Central
Phone: +53 042-208600
E-Mail: delegado.vcl@mintur.gob.cu

Ciego de Ávila
Contact person:: Iyolexis Correa Lorenzo
Address: Máximo Gómez No. 82 e/ Honorato del Castillo y Maceo
Phone: +53 033-502129
E-Mail: delegado.cav@mintur.gob.cu

Camagüey
Contact person:: Yunesky B. Canteli González
Address: Carretera Central S/N e/Céspedes y Ave. Jayamá, municipio Camagüey, provincia Camagüey
Phone: +53 032-272162
E-Mail: delegado.cmg@mintur.gob.cu

Las Tunas
Contact person:: Giarlis Melenilla Romero
Address: Calle Lucas Ortiz #199 entre 24 de febrero y Ramón Ortuño, municipio Las Tunas, provincia de Las Tunas
Phone: +53 031-346750
E Mail: delegado.ltu@mintur.gob.cu

Holguín
Contact person:: Eddy Santos gonzalez
Address: Calle Habana #13 / Maceo y Libertad, Holguín. Cuba
Phone: +53 024-424133
E-Mail: delegado.hlg@mintur.gob.cu

Granma
Contact person:: Nancy Virgen Estrada Milanés
Address: Martí No. 178 e/ Saco y Figueredo,Bayamo
Phone: +53 023-426969
E-Mail: delegado.grm@mintur.gob.cu

Santiago de Cuba
Contact person:: Zoraida Lozano González
Address: Carretera Central esq. Yarayó s/n, Santiago de Cuba.
Phone:+53 022-620954
E-Mail: delegado.stg@mintur.gob.cu

Guantánamo
Contact person:: Onelkis Ferrer Kindelan
Address: Calle Calixto García No. 1057 e/ Donato Mármol y Varona, Guantánamo.
Phone: +53 021-355168
E-Mail: delegado.gtm@mintur.gob.cu
Addresses of the embassies of Germany and Cuba
Embassy of the Federal Republic of Germany in Cuba
Adress: Calle 13, No. 652, esq. B, Vedado, La Habana, Cuba
Phone +53 7 833 25 69
E-Mail: info@havanna.diplo.de
Contakt-Link: https://havanna.diplo.de/cu-de/service/kontakt-formular

Embassy of the Republic of Cuba in Germany
Adress: Stavangerstraße 20, 10439 Berlin
Deutschland
Phone: +49 30 40 04 58 20
E-Mail: recepcion@botschaft-kuba.de
Opening times: Mo.-Fr.: 10:00 a.m. - 1:00 p.m. and 2:00 p.m. - 5:00 p.m.

Consular Section:
Adress: Gotlandstraße 15, 10439 Berlin
Phone: +49 30 40 04 58 229; +49 30 40 04 58 230
E-Mail: consulberlin@t-online.de / recepcion-consulado@botschaft-kuba.de
Office hours: Mo, Tu. and Th. 8:30 a.m. - 11:30 a.m. / We. 2:00 p.m. - 4:00 p.m.

Branch office of the Embassy of the Republic of Cuba in Bonn
Adress: Kennedyallee 22-24, 53175 Bonn
Germany
Phone: +49 228 30 90
E-Mail: kons-od-bonn@botschaft-kuba.de
Opening times: Mo.-Th. 09:00 a.m. - 12:00 a.m. Uhr
Who is Cuba perfect for?
Everyone will find something in Cuba! Regardless of whether it is a relaxed family vacation in Cuba, a group tour or a romantic travel for two on white sandy beaches or in picturesque locations or an adventurous solo trip.
Is Cuba Safe to Travel to?
Cuba is considered one of the safest countries on the American continent. Women traveling alone or in groups can also enjoy an absolutely carefree vacation in Cuba. In spite of everything, you should observe general safety rules, e.g. do not leave expensive items lying around or carry a lot of useless cash with you. Leave unneeded items in the accommodation (casa), they are safe there.
What vaccinations do I need for my trip to Cuba?
There are no vaccination regulations for Cuba. You only need to provide proof of vaccination if you are coming from a yellow fever or cholera area. To be on the safe side, you should have the usual vaccinations such as tetanus, hepatitis A + B, polio and typhoid. Cuba is free of malaria, but infections from the Zika virus, dengue fever, diarrhea, cholera, ciguatera (a fish poisoning that occurs especially from April to September after eating sea fish that has ingested poisonous algae) and rabies (especially transmitted by dogs and cats) and bats). Due to the risk of infection with the Zika virus and dengue fever, mosquito prophylaxis such as B. DEET or Icaridin is recommended.
The ideal first-aid kit for traveling to Cuba!
For a trip to Cuba, you should make sure that you bring enough sunscreen and insect repellent with you. You should have it with you, especially near the mangroves or the national parks. Mosquitoes show no mercy in front of tourists! A small first-aid kit with plasters, nasal spray, remedies for colds or fever, wound healing ointment, Voltaren gel, tablets for stomach upset and diarrhea, ibuprofen, etc. are also recommended.
How is medical care in Cuba in the event of illness or accidents?
Cuba has an extremely well developed, comprehensive network of partly highly qualified medical care. There is a polyclinic or doctor in almost every village. In the event of illness, you can be helped quickly and easily. However, you must have international health insurance to cover the costs. For example, the ADAC foreign health insurance for a few euros is highly recommended. Upon request, you will also receive a certified Spanish translation of the policy from the ADAC.
Do I need a visa for Cuba?
Yes, you need a so-called tourist card (link to picture in social media folder) to enter Cuba.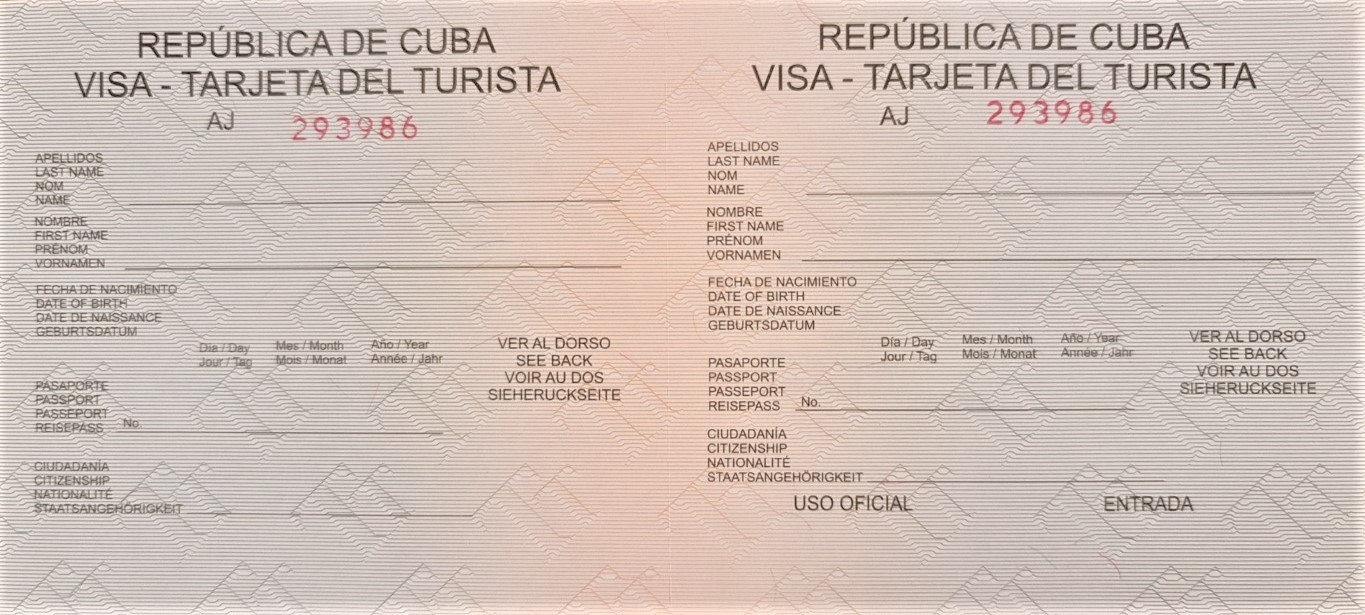 It can be purchased at the information desk at the airport or at the Condor counter. The validity begins with your entry and ends after 30 days. If you want to stay longer in Cuba, you can extend the visa twice for 30 days each time. This is possible in all major cities in the offices of the migration authority. It is not necessary to register there in advance. The cost of renewal is $ 25 each. Incidentally, your passport must be valid for at least 6 months upon entry.
What is the best time to visit Cuba?
The best time to travel to Cuba is between November and April. Then the dry season prevails and the hurricane season is already over. If you are a sun worshiper and you don't mind the heat, then Cuba is an ideal travel destination all year round.
When is the hurricane season in Cuba?
Cuba is in the catchment area of tropical cyclones that form annually from June to November over the Atlantic and in the Caribbean. Cuba is also often affected and sometimes damage occurs. However, Cuba has a very well-functioning civil protection system, so that, in contrast to the neighboring islands and the USA, there are seldom human casualties. When storms are approaching, the Cuban media provide permanent information about the current situation.
Which cultural differences should I be prepared for in Cuba?
One thing you should be aware of, you are traveling to a country with a different social structure and way of life. You should therefore ignore some of our western expectations and ideas during your vacation in Cuba. Most commonly used words in Cuba are "mañana" = tomorrow and "quizás" = maybe. The Cubans live in today.
Should I reserve my vacation rental before I travel?
If you want a relaxing, carefree vacation, it is highly recommended. Also, remember that the most popular cottages are fully booked as the fastest. In the main travel season from the end of October to May, you should definitely book your apartments in advance. This saves you unnecessary searches and protects you from unpleasant experiences. If you would like to decide spontaneously on site, we offer you our Kuba Flex program. You reserve a holiday home at a travel destination and stay as long as you want (subject to availability). Tell us or our agency about your next destination and the desired casa particular no later than one day before your planned onward journey. We will then book your desired holiday apartments for you and you will receive the confirmation before your departure.
How can I book my Cuba tour with Cuba Exclusivo?
You can put together your entire tour on our website and conclude it with a single booking. First, choose your desired travel destinations in Cuba. Choose your dream accommodation at this location and then the apartment you want. Enter the desired period for this holiday accommodation. If the apartment is available during this period, complete the process with "Add to tour". Our system then saves your wishes in a shopping cart under "My Tour". Once you have planned all travel destinations and holiday accommodations, you can call up the booking in "My Tour" and make a binding booking. In the booking confirmation, which you will receive by email within a few seconds, all your travel destinations and accommodations are summarized at a glance. If you are unsure or would like advice, you are also welcome to call and go through the reservation with an advisor. Our hotline can be reached daily until 10 p.m. European time on +49 40 300 310 60.
When will I get my travel documents?
You will receive your complete travel documents with the addresses of your vacation rentals, the names of your hosts, telephone numbers as well as the details of our agencies in Cuba after booking and receipt of your payment in our accounts.
What can I expect in my casa particular (private accommodation)?
Our private holiday apartments offer you the best opportunity to experience Cuban everyday life up close. You live together with your hosts, our Cuban partners, under one roof, depending on the accommodation, sometimes with separate access to the booked apartment. In any case, your booked apartments offer absolute privacy and usually a higher standard than in some hotels. The price for a holiday apartment for 2 to 4 people is between 15 and 70 euros / per day, depending on the budget and requirements, i.e. between 7.50 euros and 17.50 euros per person / day. Sometimes your hosts offer a continental breakfast included in the price. A bathroom always belongs to the booked room. Many accommodations also have balconies, terraces or gardens. When you arrive at the casa particular, you will generally be invited to a typical Cuban coffee, a fresh juice or a delicious cocktail. You can find all details as well as equipment features and services on our page for your desired holiday accommodation.
How do I find the holiday accommodation I have booked?
We recommend that you take a taxi from the arrival airport to the first accommodation. In Havana, Varadero or Holguin, the trip from the airport to your accommodation costs between $ 15 (375 Pesos CUP) and 25 $ (625 Pesos CUP). If you want to explore Cuba by rental car, you should already download the MAPSME app and a Cuba map at home in your home country. In Cuba you only need GPS in your smartphone, then the navigation works. If you want to travel by bus (VIAZUL), your hosts will pick you up from the bus station. Just tell your hosts your planned arrival time. If you travel with the so-called collective taxis (Taxi collectivo), let yourself be driven to the Terminal de Omnibus. Even then you will be picked up there by your new hosts. You can recognize your new hosts by a sign with your name on it.
Warning / Notice:
It can increasingly happen at the train stations, but also directly in front of the holiday accommodation, that you are approached by friendly Cubans, so-called jineteros (smugglers). Sometimes with adventurous stories, they try to find other accommodation for you. In doing so, they are very inventive. Do not get involved, the only goal of these "unselfish" men or women is to collect additional commissions for this mediation, which is added to the price, by the way per day. In any case , knock or ring the bell at the booked accommodation. Your hosts have already received copies of your booking documents from us and are waiting for you. At the entrance of the accommodations that work with us you will find a distinctive sticker with the CUBA-EXCLUSIVO logo.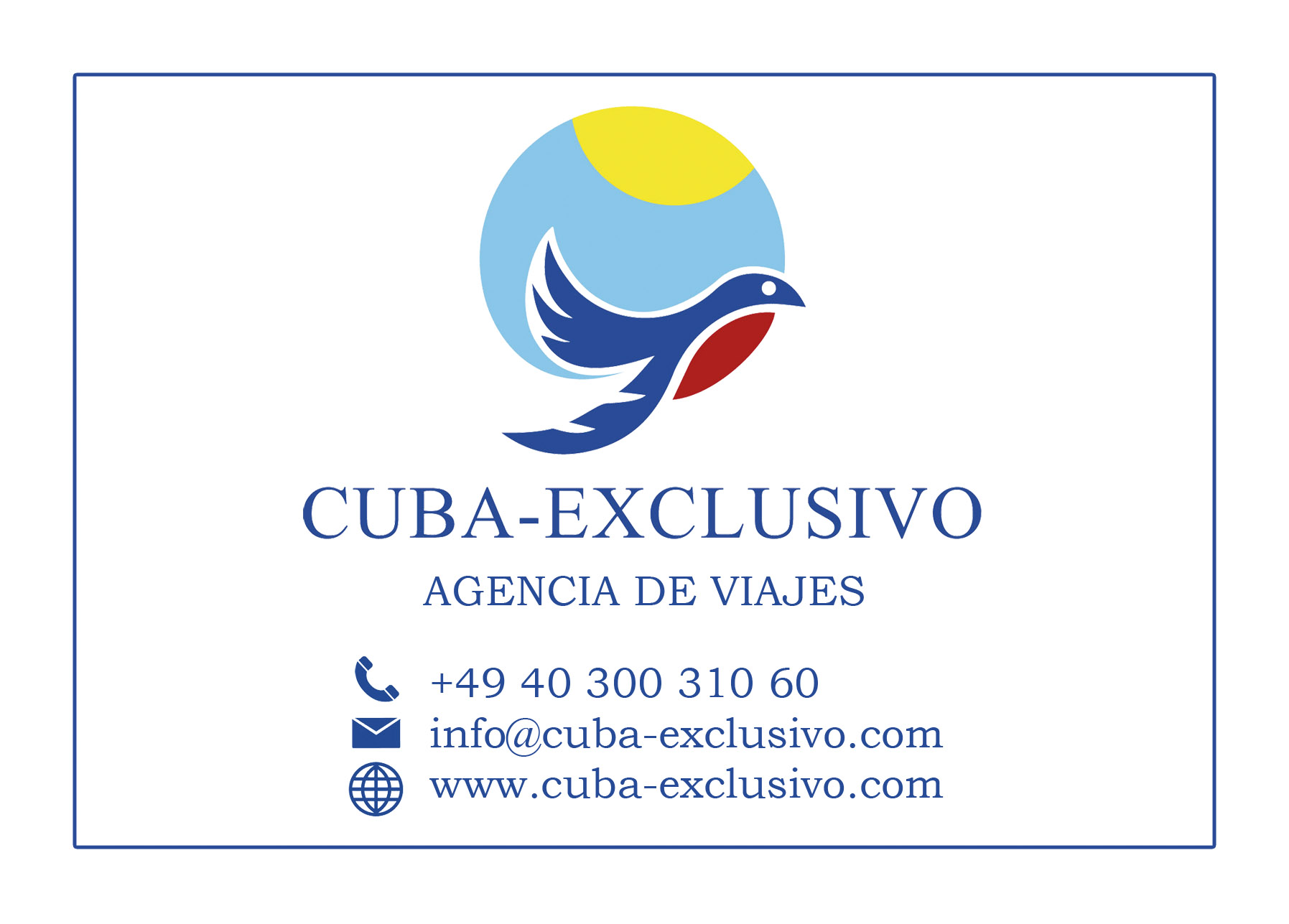 How do I get to my next vacation destination?
There are many ways to get there, including in Cuba. Your budget doesn't allow you to rent a car, no problem. Alternatively, you can take the ViaZul (coaches with international standards). Here (link) you can book all the connections and tickets you want from home. If you are looking for pure adventure, you can reach your next destination with a shared taxi. Often these are Oldsmobile. Sometimes up to 7 or more people travel in one car. There's no easier way to get to know each other, and you might even get valuable advice. If you are traveling with family and children, it makes more sense to book a taxi individually to your next destination. You can tell us your wishes when booking, then we can organize it for you. You can also ask your hosts, they also have contacts to taxis. As a guide: a trip from Havana to Playa Larga (diving paradise), 160 km, should not cost more than € 80, a trip to Cienfuegos, 270 km, no more than € 100, and Trinidad, 350 km, no more than € 150. The price refers to the car, not per person. If you want to go directly to the south of Cuba or to one of the offshore islands without a stopover, domestic flights are also possible. The center for this is Terminal 1 of Havana Airport. There are regular flights to: Santiago de Cuba, Holguín, Baracoa, Camagüey, Guantánamo, Nueva Gerona and the islands of Cayo Coco and Cayo Largo.
Can I cancel a booking?
You can cancel a booking at any time within the cancellation deadline set by the owner of the holiday accommodation free of charge. As a rule, cancellations are free of charge up to 7 or 14 days before arrival. Any advance payments made will be refunded to you within 5 working days. Outside the deadlines, you will be charged the cost of the first night. In the event of no-show, the entire accommodation costs are due. With regard to the current situation in connection with the Corona Virus, cancellations are also possible outside of the cancellation deadlines if an order from the authorities in your home country or in Cuba makes it impossible to travel. In such cases, however, the cost of the first night will be charged.
Will my cell phone and mobile internet (WiFi) work in Cuba?
Yes, Cuba has a well-developed cell phone network. Friends or family can reach you easily and you can use your cell phone in Cuba. Please note, however, that the call charges if you want to call someone in Germany, for example, are € 6 / minute, an SMS can cost € 1. However, you have the option of buying a Cuban number from an ETECSA office. All you need is your passport. You will receive a prepaid card with a Cuban number. One minute of conversation with this number to Germany costs 1 €. The one-time costs are € 40 (1000 CUP), including € 10 call volume. Various providers on the Internet make special offers 1 to 2 times a month, for example you can buy € 20 credit and receive an additional € 40 bonus. Then one minute only costs about 30 cents. This means that you can talk to friends or family in a relaxed manner with constant cost control. With the key combinations * 222 # + dial button you can check your credit balance, with + 222 * 266 # + dial button the bonus balance. We recommend the company mobilerecharge for online top-ups, because of the simple and free registration and reliable service.
Permanent use of the Internet is also possible with the Cuban number. With the credit you can buy internet volume directly from your mobile phone (1 GB for 10 €). You can call this function with * 133 * 266 # + dial key in the mobile phone.

With your German mobile phone number, you can also use the Internet at the WiFi hotspots or, if available, in your holiday accommodation. The network for this is also very well developed in Cuba. However, you need a WiFi prepaid card for this. One hour of internet costs € 1, you can buy the prepaid card in the ETECSA office or at hotel lobbies.
How do I recognize licensed vacation rentals?
You can recognize licensed accommodation for foreign tourists by the blue sign in front of the house with the words Casa Particular or Arrendador Divisas. Casas with a red sign are exclusively reserved for Cuban tourists. You can recognize the houses of the Cuban partners who work with CUBA-EXCLUSIVO by our sticker on the door.


Eating and drinking in Cuba
In Cuba you can taste pure nature again. Most of the fruit and vegetables come from private farms and are therefore free of any chemical additives. The natural taste of tomatoes, cucumbers, onions, garlic, but also bananas, avocados, mangoes and bananas will inspire you. Your hosts generally offer a continental breakfast consisting of white bread / rolls, fresh juices, fruit and vegetables, eggs, coffee, tea, etc. If you wish, you can also have dinner in your holiday accommodation. Some hosts are gifted cooks and will delight you with typical Cuban cuisine. In some holiday homes, breakfast is included in the price. You can find the information on this on the property's website. Meanwhile, there is also a good infrastructure of private restaurants in Cuba, some of them with very good quality. For every travel destination, we give you recommendations on private restaurants in the area on our website. Vegetarian, vegan, gluten and lactose-free meals are possible in our holiday homes and restaurants. Incidentally, the national drink of many Cubans is not rum, but beer. The own brands Crystal and Bucanero in particular are excellent beers and are also very popular with tourists. The only problem is often the availability. In any case, you should refrain from drinking tap water. We also recommend using mineral water to brush your teeth.
My booked holiday accommodation does not offer the service as described, what can I do?
Your vacation enjoyment is important to us! That is why we attach great importance to completeness and correctness of all information when registering a holiday accommodation on our platforms. More than 500 houses were personally visited by our managing director or one of our agencies. If, despite everything, something is not to your satisfaction in a booked accommodation, please inform us at info@cuba-exclusivo.com or +49 40 300 310 60. Together with our agencies, we will take care of your request and help you immediately. In the event of serious deficiencies or discrepancies, we will offer you alternative accommodation with the desired features. It will be very helpful for the future if you rate the accommodations after your departure. This increases the reputation of the exemplary hosts, serves as an orientation for the next guests and points out points that other hosts need to improve.
Which means of payment / currencies are accepted in Cuba?
Cuba implemented a currency reform on January 1st, 2021. The convertible peso (CUC) has been abolished and is no longer accepted as a means of payment. You can now only pay in Cuba with the Peso nacional (CUP), with euros, dollars, Swiss francs and increasingly with credit cards from VISA or Mastercard. The official exchange rate from euros to pesos is 1:25. On the street, courses of up to 1:50 are offered for one euro. To differentiate: Only people are shown on the valid peso banknotes. Peso Cubano banknotes are available in denominations of 1, 3, 5, 10, 20, 50, 100, 200, 500 and 1000.

In banks and ATMs you can withdraw money with VISACARD or Mastercard. However, we recommend that you take enough cash with you because the ATMs are sometimes out of order. Renting cars on site is only possible with a credit card. American Express cards are NOT accepted in Cuba. Beware of traps: a price tag of $ 10, for example on a menu in a street pizzeria, etc. means 10 peso national, not 10 dollars.
What electrical connections are there in Cuba?
Type A, B, C and L sockets are used in Cuba. The mains voltage is 110/220 V at a frequency of 60 Hz. We recommend taking a travel adapter / power adapter (link to picture in SM template) with you. Buying in Cuba is often difficult and expensive.
What little gifts can I give my host family with make a pleasure?
Basically, you make the families in the casas particulares the greatest pleasure by spending time in their house and booking their holiday accommodation. In this way you not only support them financially, but also learn a lot about life in Cuba and contribute to a better mutual understanding. Particularly shiny children's eyes will quickly make it clear to you that gifts are not about size or value. Small coloring books, crayons, handicraft utensils of all kinds, soap bubbles, fizzy powder, candies, gummy bears or a small ball are all it takes to make children's hearts beat faster in Cuba. Due to the planned economy, everyday things are often in short supply in Cuba and are therefore welcomed. You may be approached on the street and asked for a bottle of shampoo, a bar of soap, toothpaste or other cosmetic items. Lighters and pens are also always in short supply and are always needed. Perhaps you have even a few garments that you can do without?
Can I take merengue or salsa dance lessons on my trip to Cuba?
Music, dance and rhythm are the Cubans' elixir of life and run in their blood like in no other country. Even as a layman, you get goose bumps with enthusiasm just watching. With the right teacher you can learn the basics in just a few hours and taste this lifestyle and experience it yourself in various bars and clubs. Many of our partner houses offer dance courses or can find you the ideal teacher. A dance lesson generally costs around € 15, a weekly course around € 80.
Is Cuba also suitable for hiking for me?
In addition to the snow-white beaches, as far as the eye can see, with a crystal clear sea, there is also an incomparable nature in Cuba that will delight every hiker. No matter which part of Cuba you want to visit, each province offers various opportunities to hike and explore nature on foot. For example the valley of Vinales (province of Pinar del Rio), the national park Ciénaga de Zapata (province of Matanzas), the waterfalls of Topes de Collantes or El Nicho (provinces of Santi Spiritus and Cienfuegos), the ecovillage of Las Terrazas (province of Artemisa), El Yunque (Baracoa, Guantánamo Province), the Alexander von Humboldt National Park (Baracoa) or the King's Gardens (Ciego de Ávila Province).

At each of these places your heart will beat faster and you will be able to enjoy pure nature and unforgettable moments.
What nature and animals can I find in Cuba?
The nature and animal world is so diverse that no zoo can keep up. More than 15,500 animal species, including 950 fish, 850 butterfly, 350 bird and 120 reptile species live on the most famous island in the Caribbean. To be able to observe the animals here in their very own environment - an unforgettable experience! Apart from mosquitoes, neither flora nor fauna are dangerous to humans in Cuba. In some cases you can see animals and plants that actually only exist in Cuba or that are extremely rare, such as the mini hummingbird Zunzun or the smallest frog in the world. The mountain region of Soroa and the Baconao Park near Santiago de Cuba, for example, are true Eldorados for orchid lovers. There you can admire more than 700 different types of these beautiful flowers, 250 of which are only found in Cuba. Half of all plant species actually only exist in Cuba. The flora of Cuba is so extraordinary that many botanists around the world still dedicate their research to it today.
How big is the time difference between Germany and Cuba?
In Cuba it is 7 hours earlier in summer and 6 hours earlier in winter than in Germany. The flight time is approx. 10 hours.
What clothes and other things do I need in Cuba?
Your journey takes you into the tropical lowlands, but also into the mountain areas, where there is a temperate climate with occasionally cooler nights. Therefore, thin cotton clothing works best, along with lightweight sweaters, long-sleeved shirts, and a rain jacket. Don't forget the umbrella as protection from rain and sun. Other important things are: enough memory cards, spare batteries, a flashlight, a pocket knife (do not pack in hand luggage), writing materials (paper is scarce in Cuba), all important data and insurance documents, copies of your passport, a travel guide and booking documents. A toilet roll or two is highly recommended.